AMD Ryzen 9 7950X3D review: the new fastest gaming CPU
3D V-cache core vs frequency core performance - plus 'simulated' 7800X3D results.
While assigning games and other programs to the correct CPU cores on the 7950X3D and 7900X3D happens automatically when the OS, chipset driver and BIOS requirements are met, it's also possible to force the CPU to prefer to use its higher cache or higher frequency cores through a BIOS setting. By forcing a game to run on the frequency cores this way, we can see how much extra performance the 3D V-Cache design provides.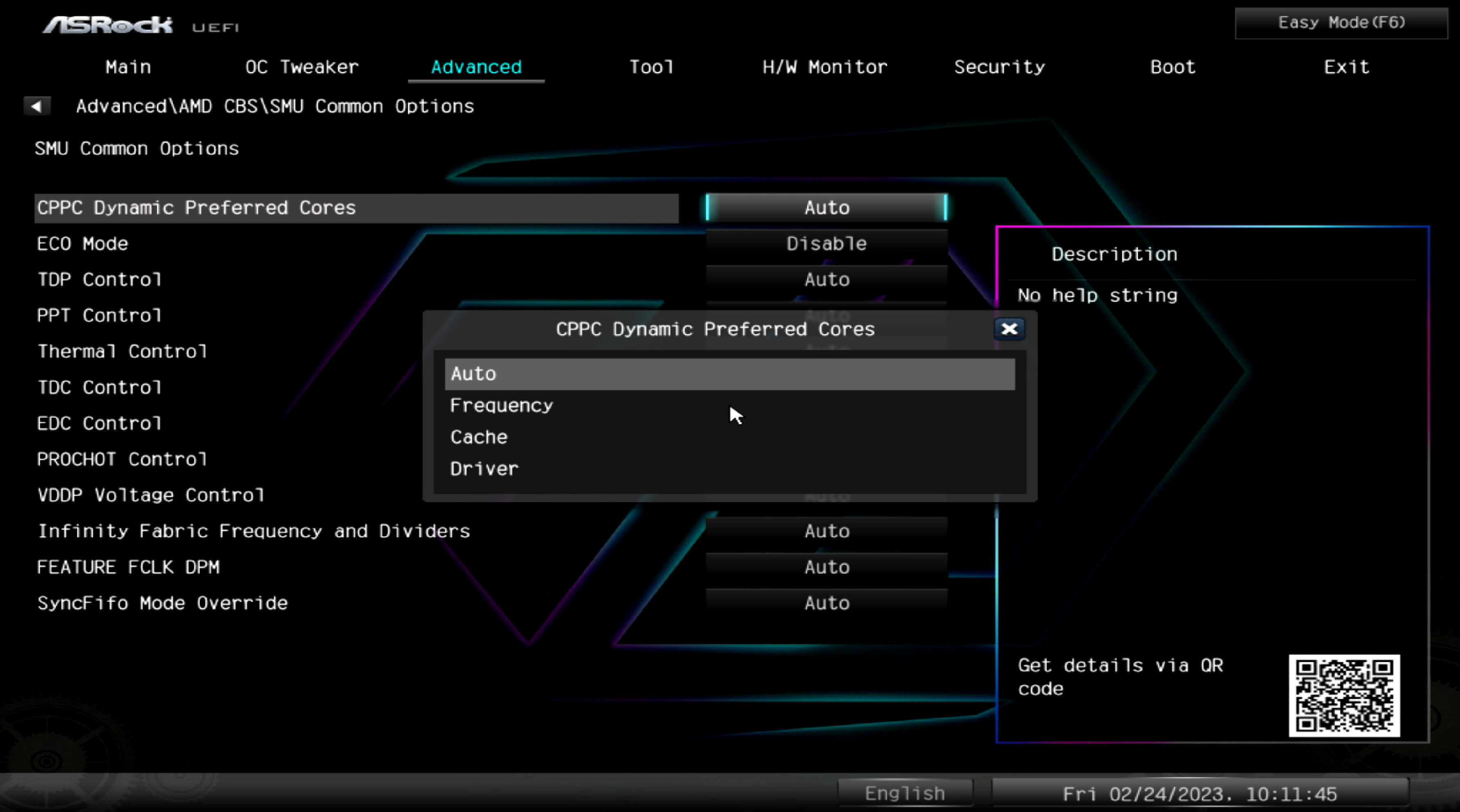 To augment our testing, we also ran some benchmarks with the the second CCD disabled, essentially turning the sixteen-core 7950X3D into the eight-core 7800X3D. This should provide some measure of insight into the kind of performance we can expect from that CPU when it launches in April, with the proviso that we won't know how accurate this 'simulated' 7800X3D is until the real thing arrives in our testing labs.
So for the results below, you'll see four different games with the CPU set to 'auto' (ie prefer higher cache cores for all games apart from League of Legends), 'freq' (prefer higher-frequency cores) and '1 CCD' (higher-frequency cores disabled, mimicking the layout of the 7800X3D).
We begin with Far Cry 6, where we see a marked 15 percent frame-rate advantage when the game is running on the v-cache cores versus the frequency cores. Interestingly, we get almost all of the performance benefit with the second CCD disabled, with only a margin-of-error difference, suggesting that the eight-core 7800X3D design would offer much the same performance. And indeed, if we look at the lowest one percent frame-rate, we actually see a 21 percent improvement from disabling the second CCD in this game.
Core Mode - Far Cry 6: Ultra, TAA
Next up is another relatively brief but often insightful benchmark run, Cyberpunk 2077. Here, the 7950X3D running in its default auto mode provides the best performance, with a more muted five percent advantage over the same CPU running with higher frequency cores preferred. Running the game with 1 CCD disabled reduces performance, with an average similar to the 'prefer frequency' results and a worse one percent figure below that of either of the two CCD configurations.
Core Mode - Cyberpunk 2077: DX12, RT
It's Hitman 3 next, and here we see another type of result: a small but measurable (1.5 percent) average frame-rate improvement when running on a single CCD, albeit with performance penalty in terms of worst one per cent times. In more general terms, the game looks likely to run well on the 7800X3D, and we can see a roughly 10 percent improvement from running on the 3D V-Cache cores.
Core Mode - Hitman 3: DX12, Default, TAA
Counter-Strike: Global Offensive was one of the few games that ran faster on the 5800X than on the 5800X3D in our testing, but we see the reverse here with the 7950X3D. The margin here in terms of average frame-rate is smaller - just one percent, which is within the margin of error - but we do see a larger five percent margin in terms of the worst one percent and worst five percent frame-rates. Disabling one CCD reduces performance by around three percent in terms of average frame-rate.
Core Mode - CS:GO: DX9, Very High, AF off
So it's interesting stuff, with quite a spread of results. The testing suggests that the V-Cache is adding around five to 15 percent extra performance depending on the game tested, with CS:GO exhibiting no real improvement or penalty when running on either set of cores. Perhaps more excitingly, the 7950X3D running with its frequency cores disabled, mimicking the upcoming 7800X3D, seems to perform excellently and should offer an even better value proposition for those that don't need a high core count for content creation tasks.
Now, let's wrap everything up in our conclusion.
AMD Ryzen 9 7950X3D analysis
Will you support the Digital Foundry team?
Digital Foundry specialises in technical analysis of gaming hardware and software, using state-of-the-art capture systems and bespoke software to show you how well games and hardware run, visualising precisely what they're capable of. In order to show you what 4K gaming actually looks like we needed to build our own platform to supply high quality 4K video for offline viewing. So we did.
Our videos are multi-gigabyte files and we've chosen a high quality provider to ensure fast downloads. However, that bandwidth isn't free and so we charge a small monthly subscription fee of £4.50. We think it's a small price to pay for unlimited access to top-tier quality encodes of our content. Thank you.
Support Digital Foundry