From Super Nintendo World to Joypolis, the joy of video game theme parks
The rivalry continues - in real life.
If you haven't been to a theme park in a long time because, like me, you either feel like you've grown out of it or don't have your own family as an excuse for such a day out, then you might feel jaded by their utopian artifices masking their capitalist tendencies to gouge your wallet for all it's worth.
Yet it's easy to be taken in by the artifice when it's done well and also happens to align with your own interests. So it is that despite not having visited a theme park in over 15 years, I'm just as excited about the opening of Super Nintendo World in Hollywood this month. Or rather, I'm excited for all of you planning to go because I already had the pleasure of visiting it in Universal Studios Japan, which is essentially the same experience.
As far as theme parks go, there's a couple things to be prepared for before going to Super Nintendo World. For one, it's a smaller area located within the Universal Studios park, with the one in Japan also containing a Harry Potter Wizarding World, an area dedicated to the Peanuts characters, and even, hilariously next door to the Mushroom Kingdom, Waterworld.
Being both new and popular, buying a ticket to Universal Studios also doesn't guarantee entry to Super Nintendo World. In Japan, you need to get a timed entry ticket that has to be requested from the park's app on the day while on site. Despite arriving when the park opened, I still had to wait until 11:30am before I could go in.
It's also not exactly a place you're visiting for exciting roller coasters, featuring just two rides, the AR-based Mario Kart: Bowser's Challenge and chill kids-friendly Yoshi's Adventure (the latter not in the Hollywood version). Thrill-seekers are better off checking out the park's other attractions - I went on the nearby Jurassic Park rides while I waited for my entry time. Instead, Super Nintendo World is really about immersing you in the world of Mario and friends, which it gets exactly right from when you first head through the big green warp pipe entrance.
The moment you see that you're coming out to Peach's Castle, from the paintings on the wall you feel like you could jump into to the stained glass window of the princess herself, it's hard not to be enchanted. And when you walk out and see the familiar rectangular land masses seen in so many of the 2D games, populated by recognisable characters like Yoshis, Thwomps, and of course a flagpole at the top, even the cloudy weather at the time couldn't dispel the magic that I really had been transported into a world I've only previously seen in video games.
It's not just that the models look exactly as you imagine, even all gold coins are spinning on the spot like they do in Mario game. But it's the playful design, I think, that's what makes it a proper video game theme park. Of course there are question blocks you can hit to earn coins, or music blocks that produce notes. The rides themselves aren't just passive experiences you sit through: in Mario Kart: Bowser's Challenge, you're competing with others to get a high score; even Yoshi's Adventure has a simple interactive element of identifying coloured eggs.
Getting the most out of that interactivity however comes at additional expense, as you need to fork out for a pricey power-up band that'll run you about £23 (multiply that if you're a family) that keeps track of your score as well as keys earned in the interactive mini-challenges dotted around the site, with three keys require to unlock a boss battle with Bowser Jr.
For a one-time visit that's a considerable cost, but you can better appreciate the value if you have plans for repeat visits, or at another Super Nintendo World site. That certainly seems to be the intention as the app the power-up bands are linked to shows all the collectible stamps you can earn that's realistically impossible to unlock from a single visit. There's definitely incentive to return with plans to expand the site so that there's other attractions besides Mario, such as Donkey Kong, though observant folks can currently spot Pikmin in the wild, cheekily placed in positions that make them hard to get a good shot of with a camera.
But while Super Nintendo World was on my itinerary when I planned my first post-Covid trip to Japan, there was another trip that happened as a bit of a surprise on the way back to Tokyo.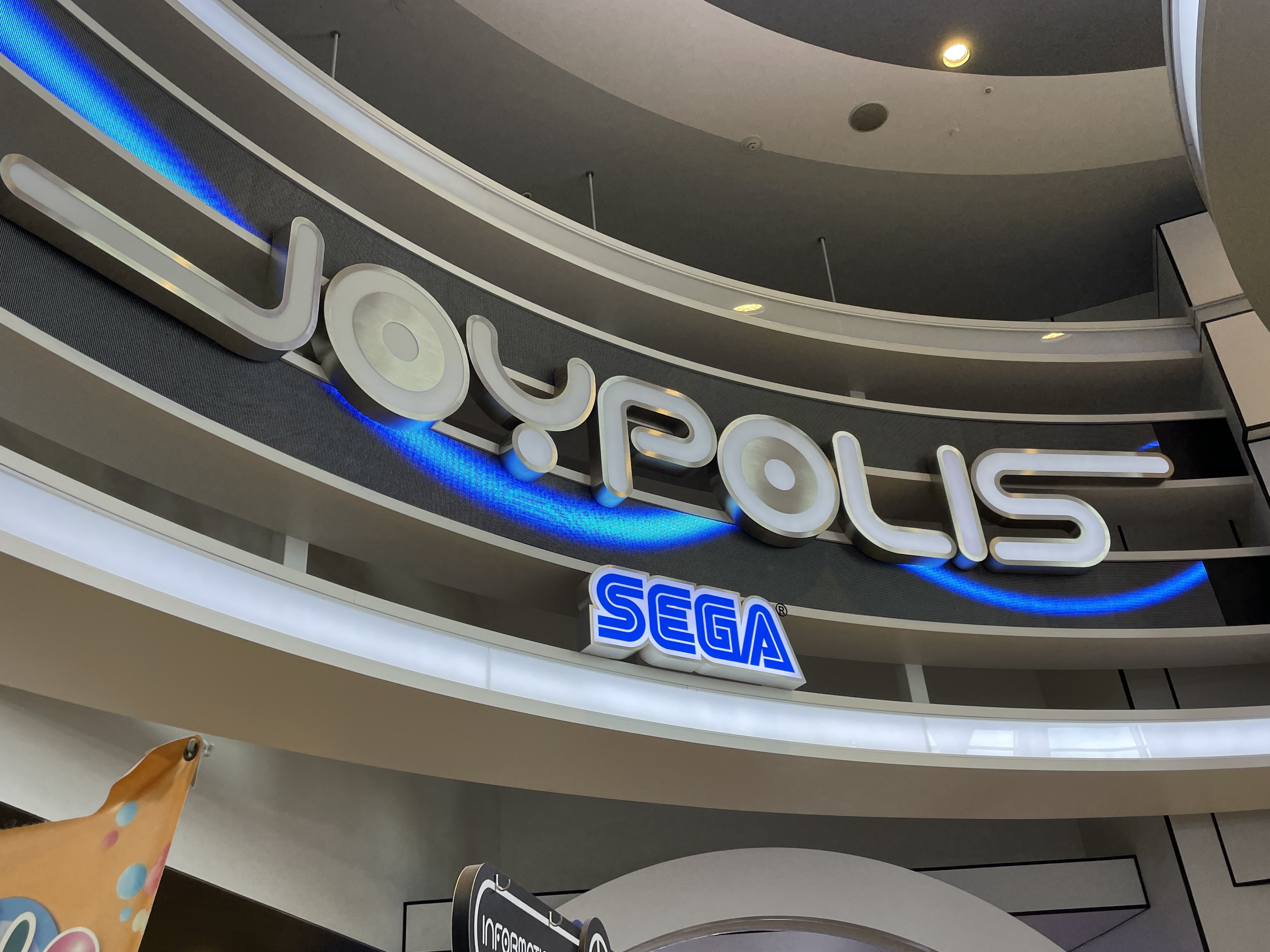 Nintendo isn't the first to open a video game theme park. Sega had done this beginning in the mid-90s with Joypolis, a chain of indoor theme parks. Since then however, most of them have closed down, apart from one in Odaiba. Since I thought of making a day trip to Tokyo's pleasure island, also home to the giant Unicorn Gundam Statue, I figured I should also visit Joypolis. But compared to the novel wonder of Super Nintendo World, would this decades-old indoor theme park be a pitiable shadow of its former self?
As it turned out, Joypolis was technically more fun than Super Nintendo World, in terms of the rides and games on offer. I arrived after lunch in the afternoon with just a few hours before the park closed that day, yet still splashed out on a passport, which grants access to all rides and games, otherwise you would have to pay individually for each ride on top of the base entry ticket.
These rides, facilitated by staff dressed in retro-futuristic Joypolis uniforms, ran the whole gamut. The AS-1 motion simulator, which famously starred Michael Jackson, was long gone, but other motion pods drew queues, including a 360-shooter based on the Transformers films. Sonic Athletics meanwhile has you picking between the Blue Blur and friends to compete across three events played by running on a treadmill. For a more traditional gaming experience, there's a condensed but also souped-up ride version of arcade shooter The House of the Dead: Scarlet Dawn where the challenge isn't so much to survive, considering you have infinite ammo, but to see which player can get the high score both in that group and that day overall.
There's a surprising amount of different licensed IP, including a ghost house-type experience featuring Sadako from the Ring series, which I must confess to having wussed out of. A personal delight however was discovering that Joypolis has its very own exclusive Ace Attorney game, featuring three different cases of different complexities set inside the venue.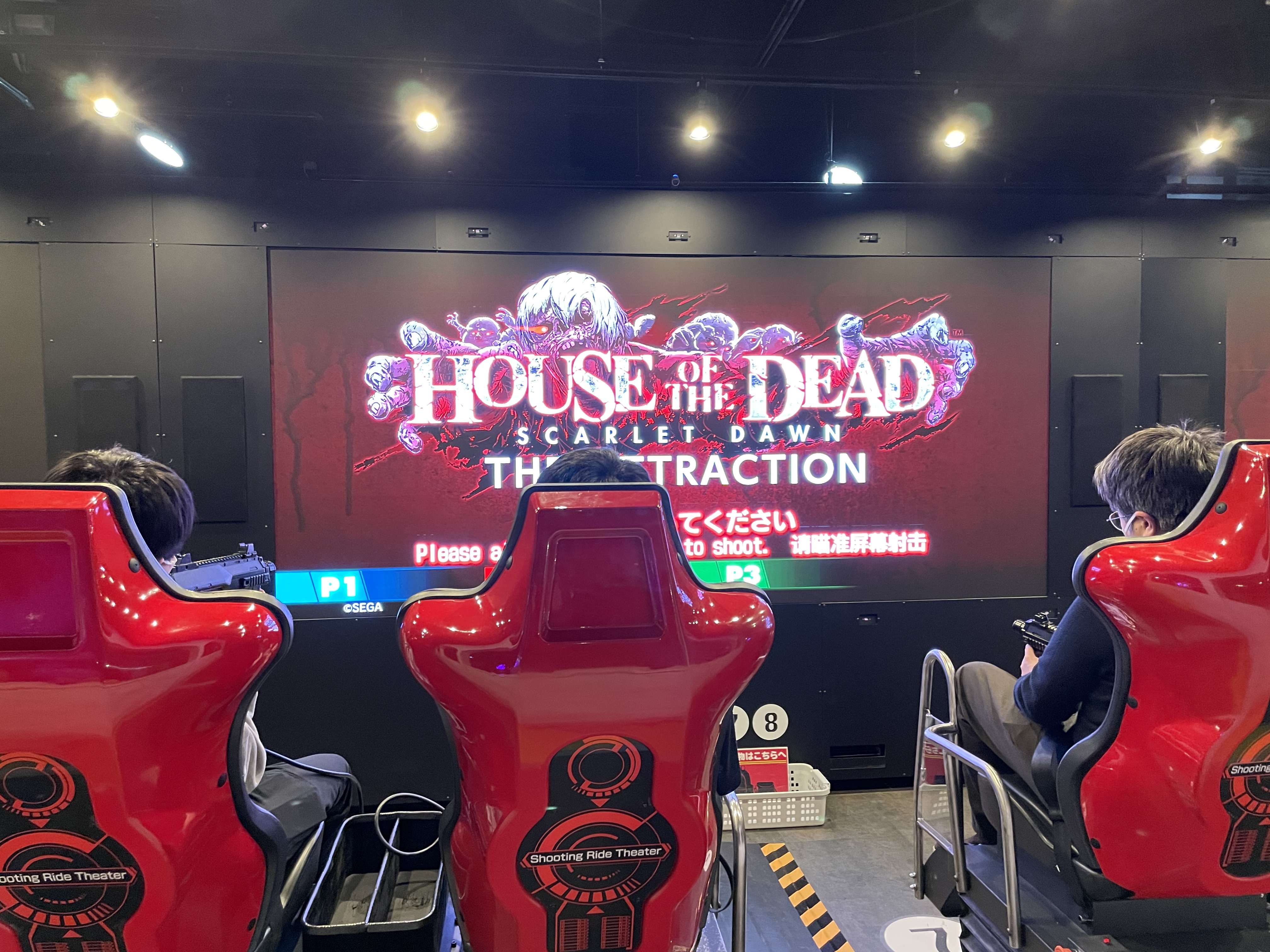 Basically, there's a recreation of Phoenix Wright's office where you're assigned the case but to find clues and interview witnesses, done by going to different booths located on the same floor, while you're also given a mini booklet where you can jot down clues to use in the trial, accessed from another special booth inside a recreation of the courthouse.
The major caveat is that this game is only playable in Japanese, which staff will warn non-Japanese speaking tourists in advance. Fortunately, thanks to Google Translate on my phone, I still managed to complete the easiest case and figure out what was going on, and run through all the delightful Objections and turnabout reactions that the series is so well known for.
On top of that, Joypolis still somehow manages to squeeze in some thrill rides of its own, which feels all the more mind-blogging indoors, even if I do remember the Pepsi Max Drop in the former London Trocadero. Half-pipe Tokyo is exactly as it sounds, simulating skating on a half-pipe while strapped in and trying to hit your feet on the 'board' at the right time while J-pop music blasts out. Gekion Live Coaster is perhaps the strangest combination - an indoor roller coaster that's also a rhythm game!
While I went in with lowered expectations, I came away pleasantly surprised by Joypolis, and actually believe it's a worthy companion visit alongside Super Nintendo World. I suppose part of that is just the old Sega fanboy in me talking. But as the company's exit from the arcade business in Japan has sadly seen its once iconic game centres shuttered or rebranded under its new owners GiGO, it's also special to see Joypolis still bearing the Sega logo, as it's owned by another company that still uses the licensing. This means you can also buy Sonic merch, or even get your picture taken with the hog himself.
To rip from another theme park, these really are magical places on earth, the only thing more magical being perhaps dining at a themed restaurant. But that's for another article.