Poll: Who do you want to see added into Mario Kart next?
Off to the races.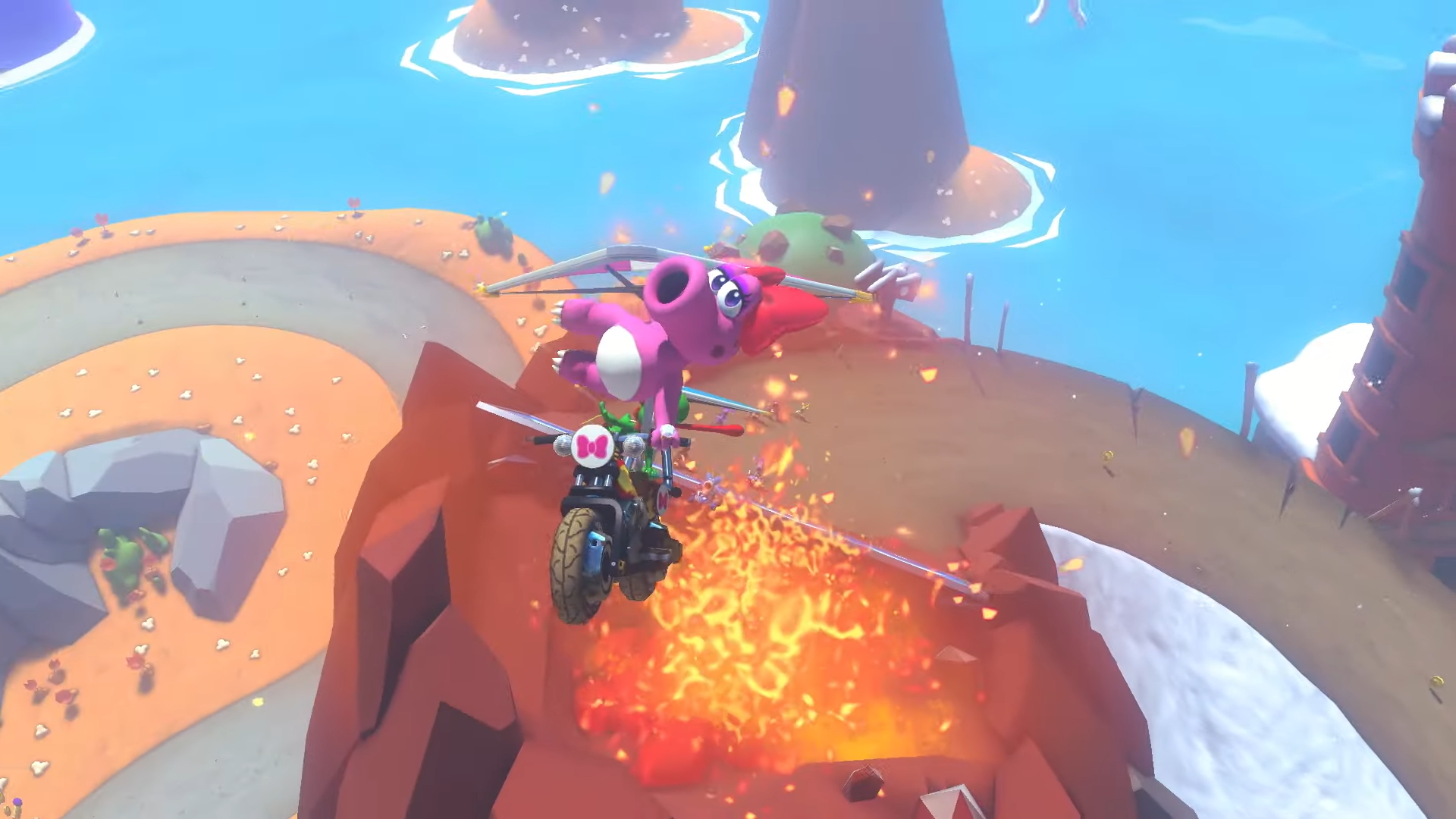 Here at Eurogamer, we're still reeling from Wednesday night's Nintendo Direct.
Sure, there was Pikmin 4. Metroid Prime, pffft. I heard some guy called Link was there?
But the most important announcement was of course, the one, the only, Birdo. Specifically, multi-coloured Birdos playable in Mario Kart 8 Deluxe.
Sneakily tucked away in the extensive press release from the Direct is the following line: "Returning characters from the Mario Kart series will be added in future waves." Which begs the question, who else would we like to see added as a racer in Mario Kart 8? We're not talking just the roster of all previous Mario Kart games. No, I know we can go bigger than that.
We can explain Link's inclusion with the Mario throwbacks in Link's Awakening, which implies some sort of shared universe. The Villagers and Isabelle from Animal Crossing could easily have made their way to the Mario track with those pipes that were added into New Horizons.
So what else could we connect into our MKU? The Mario Kart Universe, of course.
(I am told Martin does not want Nintendo to turn Mario Kart into Nintendo Kart, so I'm outlawing any series that are Nintendo properties but have never had a direct crossover with Mario. For this reason, I'm also outlawing suggestions based purely off Super Smash Bros. (I know for many it'll be a shame to not be able to suggest some of the DLC characters from SSB Ultimate.)
The first obvious choice would be Sonic. Mario and Sonic have gone head-to-head plenty of times in the crossovers for the Olympic Games, and Sonic's speedy nature would make him a perfect contender. I'm thinking Sonic on Heelys, Tails with a homemade jetpack, Shadow on Dark Rider. This then opens up the door to Sonic & Sega All-Stars Racing and its sequel Racing Transformed.
Here is where I would like to put in my official request (please, trust me on this) for Sega to create DLC for a 10-year-old game, adding Kiryu Kazuma as a playable character. He could be driving himself, or he could be controlling a car remotely from the stands. He became a Pocket Circuit pro, after all.
The other obvious choice would be the Rabbids. Mario + Rabbids not only introduced the crazy creatures to the Mario universe, but also gave us Rabbid versions of the main characters. Adding the Rabbid versions of Mario, Luigi and Peach would be amazing. And come on, Birdo needs Rabbid Peach to join her girl gang.
Looking into some of Mario's lesser-known appearances pulls out some real gems. In 2005, EA released NBA Street V3. The GameCube version included Mario, Luigi and Princess Peach as playable characters, thanks to a deal with Nintendo. Other playable characters included the basketball legends LeBron James and Shaquille O'Neal. And Ad-Rock, MCA and Mike D from the Beastie Boys?? That's a wild line-up right there.
I shall leave the rest of the sugggestions up to you, dear readers. What other characters could feasibly appear in our MKU? Do you agree on making the MKU a not-Nintendo Kart? Let us know in the comments!